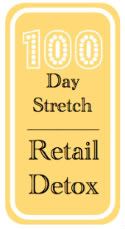 It is over and I am so happy!
Especially since I could go out today and spend the Christmas money burning a hole in my pocket!!
I went out early this morning actually to do some returns and got double my money's worth.
Plus, I found the red jeans I have been wanting since about day 2 of this shopping detox.
Honestly,though~ I didn't go out and go crazy.
I got my red jeans, did some exchanges and called it a day.
I have a nice list on my phone and when I find those items,
I wore this Friday afternoon when I hosted a party for husbands work.
I decided to mix the black and brown because I really like that look and it is more interesting just all black.
I will admit that the belt in this picture I did buy on the Thursday before Christmas.
I saw it, it was on sale and I knew it wouldn't be there after Christmas since it was the last one.
Did you go shopping today?
buy, return or exchange??
white button down-GAP
jumper-Loft
tights-Ruche
boots-Nine West
belt-Steve Madden
necklace-Versona
watch-Shock boutique