Hello Friday!
Awkward:
The curling iron slipping out of my hand and burning my face between my eyebrow and nose.

Walking around with a giant burn mark on my face!

Missing an entire day of texts because my phone was accidentally switched to LTE mode.

Mammogram.

Waiting around forever at the pharmacy because they had filed the medication under my first name, not my last.
Awesome:
Planning a trip to the Outer Banks.

Daylight Savings this weekend....I love it when it stays light longer.

A little decorating and sprucing up of the home.

Husband bringing home my favorite cookie from work.

Cracking open a brand new tube of your favorite mascara.
I decided to do a bold pattern mix with this outfit.
I love the strong mix of polka dots and stripes together.
I did have to add a little pop of color with my jewelry.
You know how hard it is for me to go strictly black and white.
Let's hear about your awkward and/or awesome moments this week in the comments.
Linking up with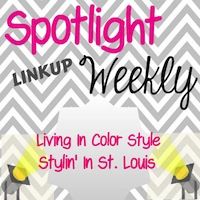 Spotlight is Polka Dots