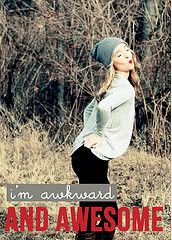 It's so nice to have my Internet back up and working.
I promise if I haven't been by your blog lately that I will be coming by soon!
Awkward:
Mammogram...lady told me I had perfect breast tissue density, wonder if she says that to all the ladies???!!

Inviting the girls over for frozen margaritas and forgetting to make sure I had ice

Having breakfast with a girlfriend and the lady at the table next to us was coughing up phlegm in a very disgusting, noisy manner

Having a 14 year old girl moment (the kind that involves wearing your sweater tied on your waist to cover the back of your pants)

Burning a giant spot on my forhead with my new curling iron. Who knew they got so hot!
Awesome:
Cocktails with the girls and the laughter that goes with it

Getting friendship bracelets in the mail from a blogger swap

Son2 making $100 for giving his opinion about chewing gum for 3 hours

Husband making his own beer over the weekend. Haven't tasted it yet, because it has to ferment or something like that, but it was fun watching him.

CMA Music Festival on ABC, Sunday night at 8:00 eastern. This is a concert made up from the CMA Music Fest I went to in June. It should be awesome and you never know if my little face will show up on TV.
Going a bit nautical here.
I added the turquoise necklace for some interest and so I wouldn't look quite so much like I was about to board a cruise ship for seniors.
Hope your Thursday is groovy and outstanding!
Son2 and I are headed to the mountains this time to go check out another college campus.
stripe top-Loft
linen pants-GAP
wedges-Rack Room
necklace/earrings-Handpicked
sunnies-The Jewel Box