Happy Friday Ya'll!
I hope your weekend is full of fun and awesomeness.
Awkward:
We supposedly had an earthquake here last Friday night. I completely missed it.

People of a certain age should not be allowed to use self check out lines.

Forgetting where you parked in a multistory parking garage.

Still trying to get glitter out of your car that has been there since Christmas.

Going to a restaurant for lunch and when you walk in they tell you they have stopped serving lunch.
Awesome:
Learning what the buttons on your camera actually do.

Seeing a bunch of girl scouts set up a "drive-thru" in the parking lot to sell their cookies.

Unexpected snail mail!

Sitting next to a young girl getting her very first pedicure.

Getting new clothes from a friend cleaning out her daughter's room.
If you haven't heard yet, pastels are big for spring.
For me the pastels have to be the absolute right shade
or I will look totally washed out.
feminine looks you can create with pastels though.
Let's hear about your awkward and awesome in the comments.
I am also linking up with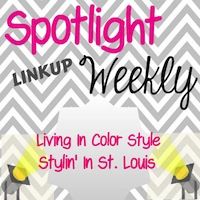 The spotlight this week is pastels.
necklace

-Vera Wang via Kohl's