Goodbye February!
Here's hoping for a nice spring-like March.
Awkward:
My business email server got hacked and I had to send out the dreaded change of address email.

My 3 week old oven blew a chip and the control board has to be replaced.

Putting the final touches to your bed after you have changed the sheets and realize you forgot to put the top sheet on the bed.

Putting away groceries and realizing you have 5 bags of brown rice in the pantry.

Going to the fridge for restaurant leftovers and someone beat you to them.
Awesome:
A friend coming to visit for a whole week.

The CamMe app. If you take selfies, you NEED this app.

A mini kitchen make-over.

Cranberry Raspberry Diet Snapple.

The return of Nashville, Gray's Anatomy and Scandal!
So once again my chartreuse shirt shows up yellow.
Went with a bit of subtle pattern mixing,
some colorful accessories.
You can't go wrong with that combo!
Let's hear about your awesome and awkward moments this week in the comments.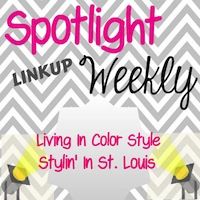 This week's spotlight is on heels.